Posted by admin on 30/07/2016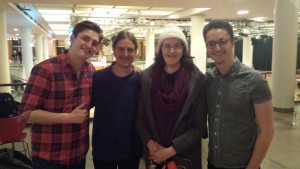 Not just a very smart name, this a capella band are outstanding.
I was vaguely aware of them from BBC's Naked Choir last year which I quite enjoyed I remember. But my youngest daughter is a great choir fan and talked me into taking her to see Gareth Malone at The Royal Festival Hall last year. Somewhere in the middle he introduced some surprise guests, Sons of Pitches! They were good and did stick in my mind.
So when same daughter mentioned they were appearing at the Hazlett Theatre, Maidstone a short while back, I booked us a seat. I have never left a show with such a big smile on my face. The sounds those guys make is just unbelievable. You seriously wouldn't believe there were no instruments involved other than their voices and mouths. Not only that, they are funny, really funny. They have a pretty misceievous attitude all the way through and there is a lot of comedy in their music too. I'm not sure if they have a choreographer advising them, but they have some great moves, really well designed into the music.
At the moment my favourite song is The Sons version of Move by Little Mix. Theirs is infinitely better than the original and there are no instruments involved! Take a look at the Naked Choir version they did here. On stage, live, it is mind blowing. That and Miss Jackson by Outkast. So clever.
Their Wuthering heights is an experience to behold too. I cannot think anyone has covered this song before, I would have thought it uncoverable(?). But live this actually brought a tear to my eye. So damn clever.
Keep it up guys. Seeing you again in November and bringing my other daughter this time too, can't wait!